In January of this year I gave our daughter a baby shower in honor of her first child, a daughter. I created the framed vintage photo of a mother and child for the special event.
I decided that since she was in the nesting time/ last month of her pregnancy, I would add a sweet bird and nest to the the piece.
On Valentines Day 2011
Miss Violet Marie was born.
I'm sure the vintage photo above was such a treasure to the family of that mother and child, as are the ones we are lucky to be receiving.
I am so proud of our daughter, she is a wonderful wife, precious mommie
and such a creative photographer.
Find more of Violet's
mommie's work at:
Rent House Photography
and
Little Cuppie Cakes
Joining...
Kathleen at
Faded Charm Cottage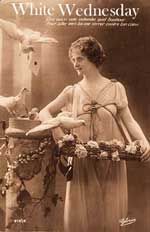 and
Debbie at
"Monday Newbie Party"
check them out...
there are so many creative people..
it's incredible!