Just before going to bed at 1:30 this morning...I was straightening up and putting away some burlap trim I had been working with......
......and before I knew it I was plugging back in the glue gun, hunting for some old shoe broaches and putting new batteries in my camera.
I have had this pillow for months and had found it
on the clearance aisle at Ross.
I love the ruching but I wasn't a big fan of the center trim on the pillow,
....however the price of $3.00 was wonderful!!!
I decided to hide the trim on the front by adding a bit of burlap, lace, velvet ribbon and a rhinestone broach "off a pair of my old sandals".
No sewing here, hot glue gun in hand....it was fast and easy to apply the new embellishments to the center front of the pillow.
I knew I kept the broaches from those old sandals for a good reason.
Believe it or not I was in bed by 2:15....
Now, I only wish I had bought two of those pillows....What was I thinking!!!
Please visit these blog parties....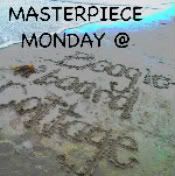 so many great ideas....